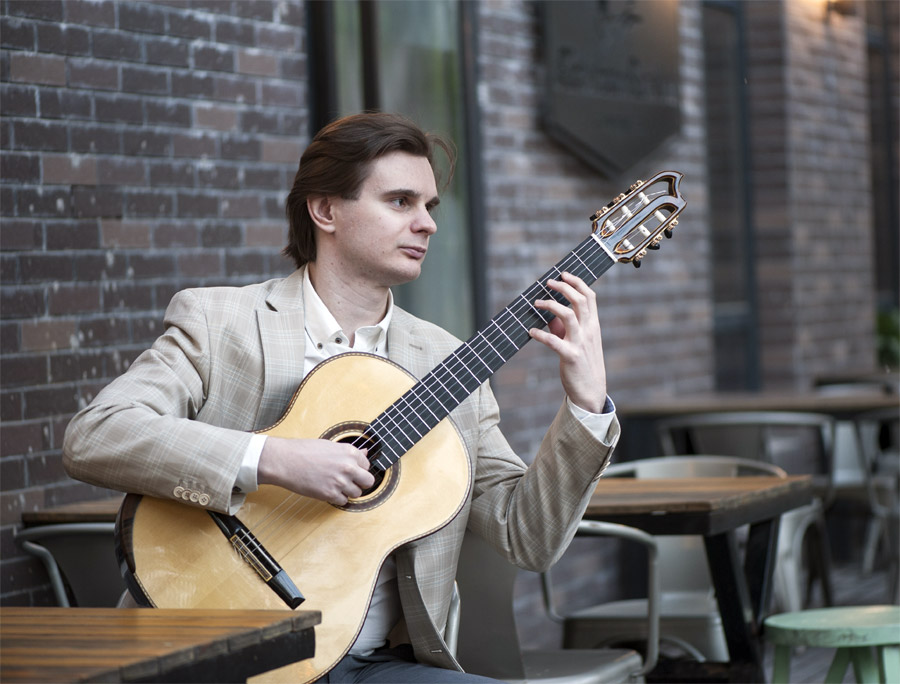 As winner of the 2013 Guitar Foundation of America Competition and more than 20 other prestigious contests around the globe, Russian guitarist Anton Baranov has established himself as one of the leading guitarists of today.
His performances in a number of distinguished halls such as Carnegie Hall in New York, Palau de Musica in Valencia, Mariinsky Concert Hall in St. Petersburg, and Hakuju Hall in Tokyo have been described by musical critics as "pure magic" (Cleveland Classical), and "manages to paint beautiful sound pictures of rich depth and color with his guitar." (The Guitar).
Known for Baranov's daring interpretations and innovative programms, world renown guitarist and composer Roland Dyens called him, "...a real misician, one of those rare guitarists who are able to have their attendees almost forget the instrument they play, managing to have them focus on the expressivity of the music and only this."
Baranov's recordings includes one album for Naxos Classical and a CD for Contrastes Records. Naxos released Latin American Guitar Sonatas in May 2014. His Contrastes Records album consists of Spanish guitar music and it's on the market since August 2014.
Anton Baranov was born in 1984 and started playing guitar at the age of ten. He completed his musical education at the oldest and most famous Russian school of music, the Saint-Petersburg State Rimsky-Korsakov Conservatory, where he has had a teaching position since his graduation in 2010. Mr. Baranov has been a D' Addario artist since 2013 and plays a Sakurai - Kohno guitar.